Learn the Best Exercises That Help Burn Calories Fast Before Consulting A Weight Loss Center in Portsmouth.
Weight loss is a serious matter for many people.
It's estimated that around half of all adults in America attempt to lose weight yearly.
People try various ways to lose weight fast and efficiently, and one of the most common things they turn to is exercising. Being physically active is vital in achieving weight loss.
But there are so many workouts out there that it could be overwhelming to choose which one to commit to. If you are unsure which exercise would help you lose weight, it would be best to consult an expert—visiting a weight loss center in Portsmouth would be a good start.
An expert can help recommend the best weight loss method while considering your body and medical background. But to get things started, read this article first to learn which exercises are best for weight loss.
Our medical weight loss Center includes FDA-approved weight loss medications to optimize your weight loss results, helping suppress the appetite.
Is Weight Loss Really Necessary?
With the coming of the digital age and people becoming more open-minded about things, the topic of "love your body" often comes up. People are encouraging others to be comfortable in their own skin and to overcome insecurities related to their physical appearance.
Although that is important, health is another matter that needs to be leveraged. There's no harm in loving yourself and your physique for the way it is. However, people who are excessively overweight or living with obesity could compromise their quality of life.
Being obese can lead to serious health conditions, including type 2 diabetes, cardiovascular diseases, and certain types of cancer. Here are the possible causes of obesity:
Increased intake of foods high in sugar and fats
Lack of physical movement
Certain health conditions and medications
Genetics
Click here to find out more about obesity.
Personalized weight loss programs that are safe and healthy are the key to providing accurate, maintainable results. Medical weight loss is the key to having a healthy life.
Six Exercises That Help Achieve Weight Loss
Walking

One of the best ways to lose weight and improve your health is through a good walking routine.

Walking can be a great way to keep your weight down while also maintaining a healthy lifestyle and making sure that your heart stays strong. If you don't have the physical capacity to run, then walking is for you!

Running or Jogging

Running or jogging are great ways to lose weight. Doing these activities regularly will help you be fitter and keep your metabolism activated, which is necessary for maintaining weight loss and control.

Running can be extremely tiring, so this might not be for everyone. However, if you can consistently run, you will lose more pounds faster.

Weight training

Weight training is a type of physical exercise that involves the use of barbells and dumbbells. Weight training combines strength and muscle-building exercises to help you lose weight and build your muscles.

This type of exercise gets rid of fats, replacing them with muscles. People who lift weights tend to have a lower body fat percentage.

Learn more here: 6 Tips For A Perfect Valentines with Medical Weight Loss

Cycling

One of the most effective ways to lose weight is to replace a meal you used to eat with a bike ride.

Several studies have indicated that cycling reduces fat mass and overall body weight, improves cholesterol levels and cardiovascular risk factors, decreases resting heart rate and blood pressure, as well as the amount of waist circumference and bone mass density.

Swimming

Swimming is a great way to stay in shape, have fun, and make new friends. It's an activity that can help you get over any stress or anxiety and has many health benefits, such as improving heart and lung capacity!

Yoga

Yoga is one of the most popular forms of exercise. It has become a fast favorite among many people who are looking for easy, effective, and natural ways to lose weight. Studies have shown that people who practice yoga can positively affect their eating habits.

Yoga is one of the best ways to lose weight, tone up your body, and get healthy. It's not just a cheap exercise fad; it's been proven that yoga really works!
Lose weight with the help of the best weight loss center in Portsmouth!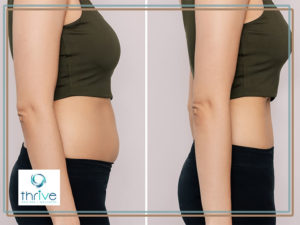 Losing weight is a challenging process. There are so many factors to consider, and the pressure inflicted by yourself and the people around you could slow down your progress.
The best solution would be to seek the help of a weight loss center. They can provide a personalized medical weight loss program designed to help you achieve your desired weight.
A medical professional will thoroughly assess your medical background and physical condition before formulating a weight loss plan that may include FDA-approved prescription medicines, hormone therapy, nutrition counseling, and many more.
All of these, along with regular exercise and dieting, can help you lose weight in no time. If you want to start losing weight, consult with Thrive MedSpa today.
We are a leading weight loss center in Portsmouth that can provide you with all the techniques and support you need to lose weight.
Contact us at (603)496-8802 or visit us at 501 Islington St., #1C, Portsmouth, NH 03801. See what our past clients say about us here.