Focus on Your Health and Fitness Goals this Valentine's with Portsmouth's Medical Weight Loss.
Valentine's Day is a special day to celebrate love and appreciation for the most important people in our lives.
But it can be challenging to find the perfect way to show your love while also trying to reach your weight loss goals.
Trying to lose weight during Valentine's Day can be challenging because of the tempting treats lurking in the office and at home.
Luckily, there are plenty of creative ways to celebrate Valentine's Day while still working towards achieving your desired weight loss.
Aside from that, you can rely on Portsmouth's leading medical weight loss program to stay focused on your weight loss journey.
Portsmouth's weight loss program is here to help you achieve your desired weight loss results. Our personalized programs make it easy and safe to shed those extra pounds.
Tips for A Healthy Weight Loss
By following these tips, you can celebrate this day and month without causing a major hiccup in your weight loss journey!
Commit with your partner.
What better way than lose weight with your partner? The key to successful weight loss is having an accountability buddy. According to a study of 130 couples, when one partner commits to losing weight, the other is likely to do the same.

This study, funded by Weight Watchers, found that nearly one-third of the participants' spouses also successfully lost weight within six months, proving a "ripple effect."

Indulge in dark chocolates.
It's common for couples to share chocolates on Valentine's Day. To maintain your weight loss goals, opt to get dark chocolate; it's a healthier alternative to other chocolates, as it contains less sugar and milk.

Some researchers have found that eating dark chocolate may positively impact your blood sugar levels and reduce cravings for less nutritious foods later. Due to its effects on a hormone that regulates appetite, dark chocolate may also make you feel less hungry.

When choosing chocolate, choose one with at least 70% cocoa and consume it in moderation. It's also important to remember that each person's body responds differently to food.

Customize your meals.
Whether you're celebrating at a resort, hotel, or a good restaurant this coming Valentine's day, modify your meals as much as possible to ensure you eat healthily. Request that your waiter or waitress substitute vegetables for the French fries or omit the sauce from your meal.

Choosing baked or grilled foods instead of braised or fried will help you minimize your calorie intake. You can also request to ditch the buns on your burger and replace them with leafy greens.

Learn more here: Medical Weight Loss: How To Eat Clean During the Holidays in Portsmouth

Eat more red-colored foods.
Fruits that are red in color are high in antioxidants, vitamins, minerals, proteins, and fibers. Choose meals packed with cherries, red bell peppers, red onions, strawberries, tomatoes, etc., as they are loaded with nutrients your body needs.

In addition, they are rich in iron, which helps your body produce red blood cells. Antioxidants help prevent cancer by fighting free radicals. Fiber is rich in healthy cholesterols, and protein helps your body grow. With all these health benefits, consider eating a fruit salad rich in red fruits.

Share a bottle of wine.
Many people enjoy red wine as an alcoholic drink, and it's been getting a lot of attention for its potential health benefits.

Red wine contains resveratrol and other antioxidants that reduce inflammation, control blood sugar levels, and maintain heart health. Moderate wine consumption may also prevent excess weight gain.

Toast to your spouse with a glass of red wine instead of sugary cocktails. Make sure you won't drink too much, as too much alcohol may reduce your libido.

Control your portions.
Just because you're eating out does not mean you can "cheat" on your weight loss progress. Plus, Valentine's Day only comes once a year, so you can indulge yourself. Portion control is the key to minimizing calorie intake and losing weight.

Although restaurant portions might seem small, they usually exceed your body's needs. You can share a single order of each dish with your partner. Additionally, you can take half of every dinner home for takeout and eat the rest later.

If you're craving sweets, you can indulge in a cake, a bar of chocolate, or two truffles. Maintain your diet plan for weight loss by controlling your portion.
Medical Weight Loss in Portsmouth
With the help of Thrive Med Spa & Wellness in Portsmouth, patients can achieve long-term weight loss through a healthy, science-oriented medical weight loss program.
Personalized For Each Patient
We create a plan tailored to your needs and medical history. Our team of experienced professionals will guide you every step of the way to ensure long-term success.

Long-term Assistance with Long-term Results
We provide ongoing support and advice to ensure your successful weight loss journey.

Our programs are designed with long-term results in mind, so you can rest assured that you will be able to maintain your new weight for years to come.

Safe and Effective Weight Loss
Our medically supervised weight loss plans are safe and effective, so you can trust that our methods will help you healthily reach your goals.

We use only proven techniques backed by science, so you know that your weight loss journey is in good hands with our weight loss specialists.
Medical Weight Loss: Say Goodbye to Unwanted Pounds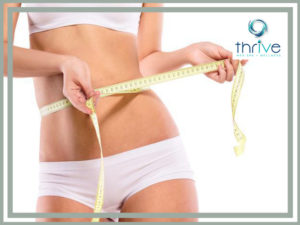 Our personalized medical weight loss plans allow you to achieve your ideal weight in no time.
Thrive Med Spa & Wellness in Portsmouth, NH, is an integrative aesthetic and wellness center dedicated to optimizing health by focusing on the root cause of your symptoms and anti-aging services that target restoring youth and vitality.
Contact our specialists in Portsmouth today at (603) 496-8802.
See what our patients have to say about our medical weight loss program! Click here.