HydraFacial® | Portsmouth
HydraFacial skin renewal treatment cleanses, detoxifies, exfoliates, extracts, and hydrates your skin in one visit. At Thrive MedSpa, we offer HydraFacial treatment, which is a non-invasive treatment to reveal a glowing, smoother, and healthier skin.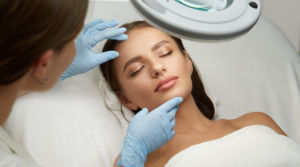 Cleansing and applying moisturizer daily may not be enough to help you hydrate and nourish your skin.
Dirt and makeup residue not removed by normal cleansers get clogged into our skin, yielding uneven skin tone, dullness, and uneven pigmentation.
Addressing these skin concerns will result in a glowing and healthier skin.
HydraFacial is just as effective as other common skin resurfacing procedures like microdermabrasion. What sets HydraFacial apart is that it is a safe and non-irritating treatment for all skin types; it is so gentle that people with sensitive skin and acne-prone skin can undergo this treatment as well.
HydraFacial is a deeply hydrating and nourishing facial that is safe and gentle even for the most sensitive skin.
With bioidentical hormone therapy, you can reverse signs of aging such as low energy, sleep problems, and brain fog!
Benefits of HydraFacial Treatment
We specialize in HydraFacial, which is a medical-grade skin resurfacing treatment. It is a safe treatment that even people with sensitive and acne-prone skin may undergo this procedure.
HydraFacial has a patented delivery system that helps exfoliate, cleans out your pores, and hydrates the skin. A serum formulation with nourishing antioxidants and peptides is infused into the skin for its anti-aging and hydration properties. Serums are formulated to address your skin concerns, such as fine lines and wrinkles, enlarged pores, and reduced elasticity.
Hydrates and brightens the skin – HydraFacial provides hydration, which is the single most important factor in healthy skin. HydraFacial rejuvenates the skin by hydrating it; say goodbye to dry, scaly, flaky, or peeling skin. It will give you a more hydrated and brighter skin.
Unclogged Pores – HydraFacial makes use of chemical exfoliants to remove dead skin cells and excess oil from the skin. Chemical exfoliants are applied to break up deep seated dirt and oil from clogged pores. Unclogged pores also help prevent acne, blackheads, and whiteheads.
Improved skin tone and hydration – After clearing impurities from the skin, HydraFacial will reveal clear and glowing, improved skin tone.
HydraFacial is a deeply hydrating and nourishing facial that is safe and gentle even for the most sensitive skin.
How HydraFacial Treatment Works
HydraFacial is a non-invasive treatment to help you give a nourished and healthy skin.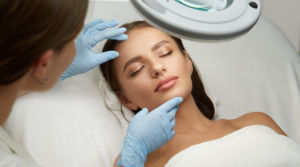 At Thrive MedSpa, an aesthetician will use a patented Vortex-Fusion delivery system to exfoliate, extract, and hydrate the skin.
During the procedure, the skin is cleansed and exfoliated using physical and chemical exfoliants (salicylic or glycolic acid for skin resurfacing depending on your needs).
Good Candidate For HydraFacial
Sensitive skin
Fine lines and wrinkles
Brown spots
Acne
Oily and congested skin
Enlarged and clogged pores
What To Expect After The Treatment
Depending on your specific skin concerns and beauty goals, the entire procedure usually takes between 30 to 60 minutes. Right after the first treatment session, you may notice smoother, softer, and younger-looking skin. Multiple sessions may also be necessary to achieve your desired results. Overtime, you will notice a more radiant, even skin tone, with reduced fine lines and wrinkles.