Hormone Pellets Alternative is available at Thrive Med Spa & Wellness in Portsmouth!
Thrive Med Spa & Wellness offers hormone pellets alternative for a safer and more effective hormone therapy experience! Hormone therapy is used to treat signs and symptoms of hormone imbalance, such as age-related hormone decline and menopause.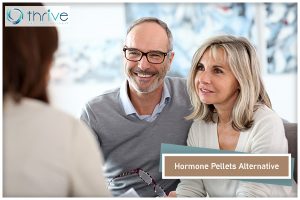 Hormone pellet therapy uses a small pellet inserted under the skin for hormone administration.
Even though hormone pellet therapy is an effective way to treat hormonal imbalances, it has a lot of side effects.
Thrive Med Spa & Wellness offers hormone pellets alternative for patients suffering from hormonal imbalances who want to improve their quality of life.
Benefits of Hormone Pellets Alternative in Portsmouth
Thrive Med Spa & Wellness in Portsmouth offers hormone pellets alternative to help men and women enjoy their lives and improve their quality of life. Hormone pellets alternative has a lot of benefits, such as:
Boost in energy – The hormone pellets alternative is safer and more effective in balancing hormones, resulting in more energy to do more activities and make you enjoy your life more.
Stronger bones – As we age, our bone density decreases, and our bone strength declines. With the help of hormone pellets alternative, we can increase bone density and improve bone strength, which reduces the risk of fractures and prevents osteoporosis.
Improved metabolism and weight management – Hormone pellets alternative helps people lose weight by improving the body's metabolism, thereby reducing weight gain.
Improved sleep – Patients who received hormone pellets alternative have reported more regular sleep. The use of hormone pellets alternative alleviates hormone-induced sleep problems.
Enhanced cognitive function – Hormone pellets alternative may help prevent "mental fog" and improve cognitive function. Better hormonal balance also leads to better memory and cognition.
Better sexual experience and increased sexual drive – Hormone pellets alternative helps balance hormones, which may increase sexual drive and performance. They can also improve vaginal dryness, resulting in a better sexual experience.
How Does Hormone Pellets Alternative in Portsmouth Work?
Hormone pellet therapy is a type of hormone therapy that uses hormone pellets inserted under the skin. It is an effective delivery method that continuously releases a hormone to correct hormone imbalance. However, it is associated with six times more side effects, such as abnormal uterine bleeding, acne breakouts, crazy mood swings, changes in hair patterns, and weight gain.
Aside from the increased risk of side effects, it is more difficult to adjust the dose of hormone pellets once inserted. There is no way to regulate the hormone dosage throughout the therapy. It is possible to receive too much or too little hormone when using pellets, and there is no way to adjust it without removing and re-inserting the pellet, which is a risky and invasive procedure.
Fortunately, there are hormone pellets alternatives. We offer a wide range of hormone pellets alternatives that are safer and have fewer side effects at Thrive Med Spa & Wellness in Portsmouth.
Bioidentical Hormone Therapy – Bioidentical hormone therapy is a new, safe and effective alternative to traditional HRT. Bioidentical hormones are plant-derived, and they are structurally identical to hormones produced by our body to relieve symptoms of age-related hormone decline.
Testosterone Replacement Therapy – Testosterone replacement therapy has been shown to help relieve many of the symptoms associated with low testosterone. Testosterone replacement therapy can help men feel more energetic and healthier.
Andropause Treatment – Andropause treatment in Portsmouth is a way to replace testosterone in men as they age. This treatment may relieve the signs and symptoms of hormonal imbalance caused by aging.
Menopause Treatment – Menopause treatment is a way to cope with the debilitating symptoms of menopause. Menopause treatment can help you feel more energetic and have more sex drive. Now, women can enjoy menopause treatment for years and feel younger than ever.
Hormone Therapy for Men – Men may also experience age-related hormonal decline, which often goes unnoticed and negatively impacts their bodies and minds. Hormone therapy for men can reverse the signs and symptoms associated with age-related hormone decline to live healthier and happier lives!
Hormone Therapy for Women – Women experience hormone changes in several stages of their lives: puberty, menstruation, pregnancy, and before and after menopause. Symptoms of hormone imbalance usually disrupt their quality of life. Even when aging is inevitable, hormone therapy can help women maintain their beauty and health.
Thyroid Hormone Therapy – Thyroid hormones affect different processes in women's bodies. Thyroid hormone imbalance often affects multiple bodies systems. Women with thyroid issues can benefit from thyroid hormone therapy.
Adrenal Fatigue Treatment – Adrenal fatigue is associated with many health issues such as nervous and immune system problems, body composition problems, and blood sugar irregularities. Adrenal fatigue treatment can prevent many health problems associated with adrenal fatigue.
There is no doubt that hormone pellet therapy provides an excellent delivery system, but it is usually associated with many side effects.
What to Expect After Hormone Pellets Alternative in Portsmouth?
If you seek relief from the signs and symptoms of age-related decline, then our hormone pellets alternative treatments in Portsmouth, NH, may be just what you need.
When you make an appointment with Thrive Med Spa and Wellness in Portsmouth, you'll receive a thorough consultation on your symptoms, goals, and needs.
We recognize that not all patients with hormonal imbalances have the same set of symptoms or the same health and wellness goals. Our doctors will carefully review your medical history to provide a hormone pellets alternative personalized to your needs and goals and supervised by medical professionals. We strive to find the best solution for each patient.
Stop Aging and Stay Young with Hormone Pellets Alternative in Portsmouth
Hormone pellets alternative treatments are safer and more effective than hormone pellets to ensure that men and women are living their best lives. Thrive Med Spa and Wellness in Portsmouth offers hormone pellets alternative for men and women to regain control of their lives and improve their quality of life.
Thrive Med Spa & Wellness in Portsmouth, New Hampshire, is an integrative aesthetic center and wellness spa. Our Wellness therapies are increasingly sought after as a gentler way to treat the body and help clients take charge of their health while getting pampered.
Start your hormone replacement therapy journey with us. Contact Thrive Med Spa and Wellness today at 603-496-8802 to learn more.