Get Amazing Skin with Skin Tightening at Portsmouth!
Until recently, there were only mild ways of tightening skin (stimulating collagen in the top layers of the skin through peels, retinoids, and lasers) and severe ways (chemical peels or pulling the skin tight with a surgical facelift, both involving downtime and greater risk).
It is becoming increasingly common to get dermatological treatments instead of facelifts-or, at least, to forestall the need for a facelift in the first place. Our clinic in Portsmouth stacks up treatments–dermaplaning, dermal fillers, RF treatments—and gets amazing results.
Because of this, fewer patients need full surgical facelifts! Combine our skin-tightening treatments with a skincare routine that will help keep your skin tight and fresh!
Tired of letting wrinkles and sagging skin hold you back? Wave goodbye to aging skin by maintaining a good skincare routine!
Is Good Skin Care Important?
The quality of your skincare routine depends on the products you use. A good quality product can help your skin look better now and in the future, whereas a poor quality product can be ineffective and even cause harm.
But "good quality" doesn't necessarily mean "expensive." Many good quality skincare products do their jobs at affordable prices. A good skincare routine will help your skin stay in excellent condition: well-hydrated, supple to the touch, even skin tone, and smooth texture.
Keeping your skin looking good can be achieved with an effective routine that can prevent acne, treat wrinkles, and prevent aging. Moreover, if you maintain a good skincare regime, you won't need to correct any skin problems in the future. Preventing skin problems is more cost-effective and easier than fixing them in the future.
Skin Tightening Tips for Younger-Looking Skin
Kick things off with the right cleanser.

Dirt, oil, and other debris accumulate on your face throughout the day. You can remove these unwanted dirt by washing your face at night. Without washing your face, your skin is constantly covered with dirt and grime, causing blemishes, dull skin, and clogged pores. Clogged pores can lead to acne.

Washing your face will also hydrate your skin. Dehydrated skin feels and looks rough, dry, wrinkled, and old. Cleansing your face (and using an effective moisturizer) will help you maintain your skin's pH balance, making it easier to retain water.

Exfoliate regularly.

If you want healthy skin, exfoliation is essential. It has anti-aging benefits and reduces wrinkles and fine lines. Exfoliation removes dead skin cells from the top layer of the skin. This results in a more radiant appearance and better absorption of skincare products.

By exfoliating, you are stimulating collagen production, which improves the texture and integrity of your skin and makes it look plump and tight.

Apply an exfoliating scrub evenly to moist skin and exfoliate in a circular motion; do this once or twice a week. This will remove dead skin cells that make your skin look dull and lackluster. Be sure to care for your elbows, knees, and back.

Learn more here: Skin Tightening Is Changing How We Age. Here's Why!

Load up on moisture.

A good rule of thumb is to work smarter, not harder. It applies to many things, but we especially resonate with it when moisturizing your skin. A good moisturizer can plump your skin and immediately reduce fine lines and wrinkles.

Having moisturized skin is vital to keeping it healthy and hydrated. The skin's moisture barrier locks in moisture. If your skin is dehydrated, you will experience more skin problems, such as acne, fine lines, and wrinkles.

Moisturizing in the morning hydrates and plumps your skin, while at night, it restores moisture lost during the day. Ensure your skincare products contain ceramides and hyaluronic acid, which are vital hydrating ingredients.

Don't forget your neck.

We often forget to take care of our necks when doing our skincare. Unfortunately, the neck is one of the most common areas to need wrinkle treatment later in life.

Our necks lose elasticity faster than anywhere else on our bodies, so they take on a crepey appearance as we age. This is why using skin-firming lotions or creams on both areas is crucial.

We should be just as careful about caring for the neck and décolletage as we care for our faces. Don't forget to apply moisturizer and sunscreen on the neck daily.

Wear sunscreen always.

Exposure to the sun accelerates aging. Premature aging is mainly caused by UV ray damage from the sun. Our skin shows signs of premature aging through wrinkles, dullness, brown spots, and uneven pigmentation.

Protect your skin by wearing sunscreen every day. Look for broad-spectrum sunscreen products with at least SPF 50. It also reverses wrinkles and dark spots, which are common signs of photoaging. Not only does sunscreen make you look younger, but it makes you look less wrinkled, too.
Give yourself the gift of firmer, healthier skin without any invasive procedures. Get firmer skin without any fuss with Portsmouth's non-invasive skin tightening treatments.
Skin Tightening Portsmouth NH: Get Tighter, Younger-Looking Skin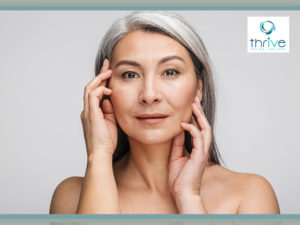 Get the very best skin tightening treatments in Portsmouth. At Thrive Med Spa and Wellness in Portsmouth, we provide a wide array of treatments to tighten your skin.
Thrive Med Spa & Wellness in Portsmouth, New Hampshire, is an integrative aesthetic center and wellness spa.
Our Wellness therapies are increasingly sought after as a gentler way to treat the body and help clients take charge of their health while getting pampered. Contact Thrive Med Spa and Wellness today at (603) 496-8802 to learn more.
Discover what our patients love about our skin-tightening treatments: click here.