IV Therapy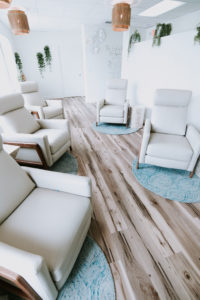 At Thrive Med Spa & Wellness, we have provided IV therapy services for over 10 years at our affiliated medical office, Vibrant Health, located directly above the spa on the second floor in a cozy, relaxing, and clean medical IV suite.
Although just a recent health trend, IV Therapy can be traced back to the 1600s, and the kinds of vitamin infusions that are offered today have been around for decades.
If you're looking for a health boost, suffer from fatigue, dehydration, or nutrient deficiencies, Thrive Med Spa & Wellness in Portsmouth, New Hampshire, is here for you.
We offer a number of IV therapy services and IV shots including vitamin B12 and others to help you look and feel your best and give you the boost of energy you desire. Call Thrive Med Spa & Wellness, the only integrative medical spa of its kind in the Seacoast, to learn more about IV therapy or schedule an appointment online today.
Alleviate IV
This IV may be used to help relieve symptoms of PMS. Patients have reported reduced bloating, irritability, abdominal discomfort and lower back pain when using this IV prior to or during "that time of the month".
Inner Beauty IV
Designed to help bring out radiance and natural glow, this IV includes premium-quality nutrients to that we've chosen to support fortifying hair, skin and nails, support reduction in wrinkles, and assist with plumping and re-hydrating skin from the inside out.
Recovery & Performance IV
Designed to help shorten the time of recovery after an injury and potentially improve athletic ability, this IV is great for athletes to promote improved performance and overall wellness. In addition to improved recovery time reported, clients may benefit by replenishing essential nutrients and hydration lost during vigorous exercise, and overall decreased inflammation.
Get Up & Go IV
Designed to help kickstart your metabolism and feel more energized, this IV is designed to help burn fat, improve performance, boost metabolism and energy levels, and provide the nutrients needed for optimal wellness.
Immunity IV
This IV Therapy option is the perfect solution for anyone looking to boost their immune system, and protect themselves against viruses, bacteria and infections. Our Immunity IV comes stocked with all the essential vitamins and minerals you need to feel your best!