Lip Enhancement is available at Thrive Med Spa & Wellness in Portsmouth!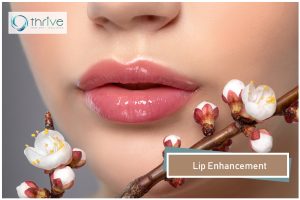 Thrive Med Spa in Portsmouth offers lip enhancement with dermal fillers. Lips may be filled with dermal fillers to replace volume lost due to aging.
We offer FDA-approved dermal fillers that provide you with sculpted and voluminous lips.
The number one cause of skin aging is the loss of collagen. Aging in the area around the mouth is accompanied by lengthening, thinning, and volume loss.
Our lips thin as we get older. Fillers can add volume to your lips by replacing lost collagen with hyaluronic acid. Using dermal fillers for lip enhancement will give you a hydrated and fresher look.
Get kissable and plumper lips with lip enhancement using dermal fillers in Portsmouth!
Benefits of Lip Enhancement in Portsmouth
Thrive Med Spa & Wellness in Portsmouth provides dermal fillers for lip enhancement. Dermal fillers give temporary volume to different parts of the face, including the lips. This will give you a younger-looking appearance.
There are other benefits of lip enhancement, such as:
Enhances the appearance of the lips – Our lip enhancement with dermal fillers will provide your lips with a better shape and contour. Your lips will be more defined and firmer, giving that "my lips but better" look.
Delays signs of aging on the lips – Our lips naturally become thinner and longer as we age. Lip enhancement can restore Age-related volume loss in the lips. Having fuller and plumper lips will make you appear younger and more confident.
Provides natural-looking results – Injecting hyaluronic acid into the lips will give your lips a natural-looking plump and hydrated appearance.
Minimally-invasive – Unlike surgical lip augmentation, lip enhancement with dermal fillers is minimally invasive. This means you can enjoy faster recovery times and no risks!
Quick and safe procedure – Lip enhancement with dermal fillers is a quick procedure that can even be done during your lunchtime!
How Does Lip Enhancement in Portsmouth Work?
The procedure for lip enhancement is relatively simple; dermal fillers are injected into the lips to add volume and fullness lost due to aging.
Dermal fillers usually last 10 to 12 months, depending on various factors.
Thrive Med Spa & Wellness in Portsmouth can choose from multiple brands of dermal fillers for lip enhancement.
Injecting dermal fillers into the lips provides natural-looking plump lips without going under the knife!
Different dermal filler products have varying "active" molecules, such as hyaluronic acid and calcium hydroxylapatite. They also differ in density and viscosity. Products with higher density are used to define the cheekbones and jawline.
Volume is added to the cheeks and lips by using bouncy products, while hydration is added by using thinner products. Dermal fillers also promote collagen production, giving you more healthy and volumized skin.
What to Expect After Lip Enhancement in Portsmouth?
Lip enhancement in Portsmouth, NH, may be the best option if you want to rejuvenate and refresh the appearance of your lips without surgery.
We will carefully assess your family and medical history during your consultation with our doctors and discuss your aesthetic concerns and goals. This way, we can recommend the best treatment plan that will work best for your facial features.
Our goal is to provide our patients will natural-looking voluminous lips! It usually takes 15 to 60 minutes to complete the procedure. As opposed to more invasive procedures, you can enjoy the benefits of lip enhancement right away. After the injections, your lips will plump up and look more hydrated. The best results can be seen within a few days of the procedure.
The lip enhancement treatment will give you natural-looking, voluminous lips. Depending on your facial features and your desired result, we will customize a lip enhancement treatment plan for you.
Results from lip enhancement typically last anywhere between 6 and 24 months, depending on various factors such as the type of dermal filler used and how fast your body can metabolize it.
During the procedure, anesthetics, such as lidocaine, will help reduce pain and discomfort. Since dermal fillers require no surgery, there is zero downtime or recovery time. Some people may experience redness, swelling, pain, tenderness, and itching after the procedure, which is perfectly normal. Expect no complications from lip enhancement treatment, as our clinic is trained, certified, and licensed to perform lip enhancement with dermal filler injections.
Look More Youthful with Lip Enhancement
Get natural-looking plump lips with lip enhancement treatment in Portsmouth! At Thrive Med Spa and Wellness in Portsmouth, you can restore volume loss in the lips due to aging, making you appear younger-looking.
Thrive Med Spa & Wellness in Portsmouth, New Hampshire, is an integrative aesthetic center and wellness spa. Our Wellness therapies are increasingly sought after as a gentler way to treat the body and help clients take charge of their health while getting pampered.
Get a more contoured face with lip enhancement. Contact Thrive Med Spa and Wellness today at 603-496-8802 to learn more.