Xeomin in Portsmouth is an all-around anti-aging treatment. Discover the other benefits it provides.
There was a time that getting aesthetic procedures was taboo.
There is no doubt that procedures like Botox in Portsmouth, NH and its alternatives have "magical benefits," but no one dares mention it. People will judge you.
Things have changed since then. Getting treatments done on your face and body, such as Botox, has become a regular topic of conversation. Discover the many benefits of Botox Alternative aside from reducing lines and wrinkles on the face.
Xeomin, a Botox alternative, is not just for fine lines and wrinkles. It can do so much more! Find out how to get one in Portsmouth!
What is Xeomin?
Xeomin is a Botox alternative that is a safe, quick, and effective way to restore firmness and smoothness to the skin. Xeomin® (incobotulinumtoxinA) is an FDA-approved prescription medicine.
In aesthetics, Xeomin is used as a Botox alternative, as this non-invasive procedure temporarily weakens muscles to improve the look of moderate to severe frown lines between the eyebrows.
A tiny injection of this can reduce fine lines on your face and conceal your age without surgery. It can improve your appearance without any downtime.
How is Xeomin different?
Xeomin is another brand of botulinum type A neuromodulator. The main factor differentiating Xeomin from Botox is its more purified form of botulinum toxin. Xeomin, which is a Botox alternative, uses incobotulinum toxin A.
This smart toxin is double-filtered to remove unnecessary proteins from the molecule before use. Unlike Botox, the molecules are not encapsulated in protein, so you only get what's needed for smoother frown lines.
How does this Botox alternative work?
It works similarly to Botox. ​​Botulinum toxin blocks nerve activity in the muscles, causing a temporary reduction in muscle activity. Xeomin temporarily weakens muscles between the eyebrows to help reduce moderate to severe frown lines.
The most common cause of wrinkles and fine lines is frequent muscle movement, such as when you squint your eyes or smile. The skin becomes less flexible as you age, so grooves form beneath the skin's surface.
Because Xeomin blocks nerve signals, the frequently moving muscles in the face become relaxed, thus reducing or removing lines and wrinkles.
Other Things This Botox Alternative Can Do
Give a temporary facelift.

Xeomin is often dubbed as "facelift in a bottle." You can use it to shape your jaw, lift your nose tip, and relax wrinkles around your eyes and forehead.

You should be aware, however, that it doesn't provide the same results as a surgical facelift. Botox Alternative injections are temporary and must be repeated every three to four months to maintain good results.

Give you a better jawline and chin profile.

The masseter is commonly treated with Botox to manage tooth grinding. It also helps with jaw tension, pain, and clenching. Over time, grinding your teeth can widen your jawline.

Your doctor can treat this by injecting Xeomin into the area, which shrinks the muscle and narrows the jawline. A little of this Botox alternative along the muscles of the jawbone can give your jawline a crisp, defined appearance.

Additionally, the results, which last for a year, can enhance the appearance of your cheeks and alleviate pain and soreness caused by teeth grinding.

Mimic a nose job.

With age, our noses can sag and become more hooked, making our whole faces appear droopy. With Xeomin, you can lift your nose and take years off in just a few minutes without going under the knife.

When Xeomin is injected at the base of the nose (between the nostrils), it can release the depressor muscle that pulls the nose downward, lifting the entire face. It can lift the tip of your nose and enhance your nose contour.

Limiting the muscles along the sides can make the nose appear slimmer.

Give you pouty lips.

You don't have to use lip fillers to get plump, voluminous lips. The lips can be enhanced with Xeomin injections along the upper lip border. It is possible to make the upper lip appear plumper by rolling it up and out.

After the toxin relaxes the muscle, the lip becomes more voluminous and defined. In addition, this reduces lines and wrinkles on and around the lips. It also costs less than collagen injections because it requires less Xeomin than other areas of the face.

Reduce excessive sweating.

Another widespread use for Botox alternative is it reduces excessive sweating in areas of the body. If you experience hyperhidrosis, then Xeomin can be an effective treatment.

It acts similarly to Xeomin on muscles, blocking the nerve impulse from reaching your sweat glands. If the gland doesn't receive the signal, it won't produce sweat, so there will be no wetness.

Injecting this Botox alternative in the underarms, palms, or soles of the feet can treat hyperhidrosis (medically diagnosed excessive sweating). It can be a life-changing treatment for pathological sweating.
Ready to turn back time? With Xeomin, a Botox alternative, you can erase signs of aging and keep your youthful glow! Stop the clock and say goodbye to signs of aging today!
Learn more here: Botox Portsmouth NH: Stress and How It Affects Us Physically
Xeomin: A Botox Alternative to Look Your Best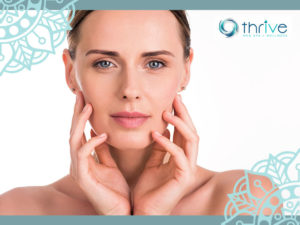 Are you looking for a fountain of youth in a bottle? Look no further than Xeomin!
Thrive Med Spa's Xeomin is more than meets the eye. It helps fine lines and wrinkles, reduces excess sweat, and helps with migraine relief.
Thrive Med Spa & Wellness in Portsmouth, New Hampshire, is an integrative aesthetic center and wellness spa. Our Wellness therapies are increasingly sought after as a gentler way to treat the body and help clients take charge of their health while getting pampered.
Contact Thrive Med Spa and Wellness today at (603) 496-8802 to learn more. Enjoy the many benefits of Xeomin, and enjoy looking and feeling your best!
See our clients' testimonies about our Botox here.