Some Helpful Aftercare Tips to Help Your Recovery After Getting a CoolSculpting Treatment in Portsmouth.
Body contouring has paved the way for people to enhance their figure or appearance through medical procedures.
There are surgical types of body contouring and those that are minimal to non-invasive. One of the developed procedures that have become increasingly popular is the CoolSculpting treatment.
CoolSculpting is a non-invasive fat reduction treatment for areas in the body that accumulate the most fat. These areas are the abdomen, thighs, and buttocks. CoolSculpting works by targeting and freezing a portion of the fat cells under the skin using controlled cooling.
The body then naturally processes those fat cells in the following weeks after treatment, which will be removed from the treatment site.
Now that the process of CoolSculpting is clear, it's time to discuss what happens after it. Learn to take good care of yourself following a CoolSculpting treatment in Portsmouth.
CoolSculpting treatment in Portsmouth could be the perfect solution if you want a non-surgical way to slim down. It will reduce your fat by 20% to 25% even after just one session.
What to expect after a CoolSculpting treatment.
It is not a weight loss treatment. It is a process formulated to eliminate stubborn fat areas that cannot be removed with diet and exercise. There isn't much pain associated with the treatment.
However, as your body is healing, you should expect a bit of discomfort with it. Here are the side effects that most patients have experienced following this non-invasive procedure:
Minor numbness
Itchy sensation
Tenderness when touched
Tingling
Always remember that people have varying tolerances when it comes to pain. What is not painful for you may be painful for someone else.
But what matters is you consult your doctor and be open to them about your feelings. By communicating well, they can recommend suitable aftercare methods for you.
Aftercare tips following a CoolSculpting treatment.
It is a treatment that requires little to no downtime. The procedure is easy and almost painless. However, you must conduct proper aftercare to ensure the best results and reduce the risk of potential side effects.
Wear loose and comfy clothing

Common side effects of CoolSculpting are swelling and soreness, so it wouldn't be ideal for you to squeeze yourself into tight clothes right away. Allow your body to relax in loose and soft clothes so that there is minimal pressure on the skin.

Remember that your skin is still recovering from an hour of icing, so avoiding anything that could aggravate the swelling, soreness, and other uncomfortable sensations is best.

Massage the area

Who doesn't love a massage? It is even more perfect when recovering from a CoolSculpting treatment. Getting massaged after the procedure improves its effects by breaking down the frozen fat and encouraging the lymphatic system to get rid of the dead fat cells.

Try massaging the treated site a few times a day for several days following the treatment.

Drink plenty of water

Eliminate fat cells faster by drinking lots of water. Keep yourself hydrated before and after the treatment to maintain overall health and help your body recover more quickly.

Apply a warm compress

If you experience pain or cramping, use a warm compress to reduce the pain. Applying a warm compress on the affected area will stimulate blood flow and circulation, which will help relieve the discomfort you are feeling.

Learn more here: Learn the Best Exercises That Help Burn Calories Fast Before Consulting A Weight Loss Center in Portsmouth.

Stay physically active

Some people believe staying in bed or resting 24/7 is the best way to recover, especially if the pain is involved. The truth is, moving around is better when you are recovering from a CoolSculpting procedure.

You do not necessarily have to force yourself to go to the gym and do strenuous exercises. You must be active enough to get the blood circulating, allowing your body to heal more efficiently. Gentle activities such as yoga or walking would suffice.

Avoid alcohol

Drinking is fun, but not when you just had a CoolSculpting treatment. Alcohol consumption can make you prone to bruising, so medical experts recommend avoiding alcoholic drinks one week before and after the procedure.

Take some painkillers

The side effects of CoolSculpting involve more discomfort rather than pain. However, a painkiller would be helpful if you have a considerably lower pain tolerance.

Remember to consult your doctor or the medical professional who handled your procedure on which painkiller is safe for you to take.

Don't expect outstanding results right away

Avoid putting too much pressure on your results. Learn to manage your expectations because you won't see any changes in your body a day after the procedure. Fat cells tend to take time to break down and leave your body.

On average, patients usually see results around three weeks after a session. It would be best to measure your body before the treatment and between intervals that come after to track improvements.
Where to Go for CoolSculpting in Portsmouth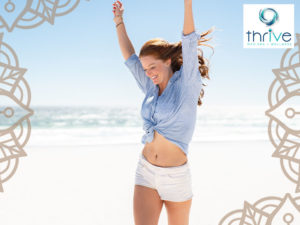 If you plan to undergo a CoolSculpting treatment, you can trust Thrive MedSpa in Portsmouth.
We offer the CoolSculpting Elite technology guaranteed for safe and effective fat reduction.
You can trust our expertise in providing a solution for those seeking a non-surgical way to obtain a slimmer body.
For more information, please get in touch with us at (603)496-8802. Feel free to visit our clinic at 501 Islington St., #1C, Portsmouth, NH 03801. Check out our 5-star clients' testimonies about our CoolSculpting here.