Don't let stubborn fat hold you back any longer–unlock your true confidence with CoolSculpting today!
We know each body is unique. We all have different body composition and body goals. But the question is, are you confidently beach ready?
Having the "perfect" beach body is a different concept now that we are embracing the beauty of different body types. It's not just about being skinny! It's about being confident in your own skin.
So how do you achieve your own beach body? Read on to find out how and learn a little bit more about CoolSculpting!
Maintain your beach-ready body this summer. Discover your true confidence with CoolSculpting!
Beach Body: Being Confident in Your Own Skin
Weight, like age, is just a number. It does not provide solid data on the effectiveness of your workout program. It doesn't accurately measure how healthy you are.
Getting the perfect summer body usually involves drastic workouts and depriving yourself of your favorite things. There is just so much desperation to achieve the idea of the ideal beach body.
Most often than not, such measures lead to discouragement, not health and fitness. It's really not a sustainable way of living.
Reset Your Summer Body Vision and Goals
When setting fitness goals, we are often over-ambitious or eager in our goal setting, making it more difficult to achieve our goals. Setting individual goals requires taking a calm, confident approach.
Moreover, changing your mindset and goals is more important than working out to get a beach body.
The biggest obstacle to creating healthy habits for most people is not their desire to be healthier but their lack of "time" to do so. It is essential to be open, honest, and nonjudgmental about your resources when setting goals.
For example, if you know for yourself that you don't have enough time on your hands, then instead of committing to going to a cycling class four times a week, which is an hour away from your home or place of work, consider your schedule, priorities, and time constraints first.
Set SMART Fitness Goals
Setting SMART goals is a popular approach for achieving all kinds of goals, and it is beneficial for fitness goals. Let's break down the components of a SMART goal below:
Specific: Is your goal clear and defined?
Measurable: Can it be tracked? How will you know if you're making progress?
Achievable: Is your goal challenging yet doable?
Realistic: Is your goal relevant to your life purpose?
Time-bound: Can you assign a date to hold yourself more accountable?
SMART goals can be highly effective when done correctly. They work best with process-oriented goals rather than outcome goals. Instead of focusing purely on the outcome, process goals focus on the steps necessary to reach it.
Here is an example of a SMART Goal:
Personal Goal: "I'm going to get my summer body."
Specific: I am going to get at least 30 minutes of exercise four times a week. And I will only consume 1500 calories per day.
Measurable: Within two months, I will lose 8 pounds.
Achievable: I already have a gym membership to a gym 10 minutes away from my office, and I can afford to buy fresh, nutritious food for myself and my family.
Realistic: I want to live a healthier lifestyle so that I feel better physically and mentally in my daily life.
Time-bound: This weekend, I will go grocery shopping for healthy food and prepare meals in advance for Monday to Friday. I will visit the gym thrice a week after work.
Get rid of stubborn fat in Portsmouth with Coolsculpting! Say goodbye to stubborn fat and hello to a new, confident you.
CoolSculpting: A SMART Goal
This summer, confidently show off your beach body! CoolSculpting in Portsmouth is a cool and SMART way to eliminate stubborn fat this summer. CoolSculpting is a revolutionary, FDA-cleared treatment for visible fat bulges in different areas of the body!
CoolSculpting works by applying controlled cooling to target unwanted fat cells beneath your skin while leaving the surface skin unaffected. The fat cells gently freeze and die and are flushed out of the body via natural processes. It is literally a cool way to contour your body safely and effectively.
Is it a SMART goal? Definitely yes!
Specific: Aside from working out four times a week and eating 1500 calories daily, I will try CoolSculpting for body contouring.
Measurable: Within three to four months of CoolSculpting, I will lose 25% to 30% of body fat in targeted areas.
Achievable: Aside from visiting the gym near my home and eating nutritious food, a clinic in Portsmouth offers CoolSculpting.
Realistic: I want to live a healthier lifestyle and reduce stubborn body fat so that I feel better physically and mentally in my daily life.
Time-bound: With my prepped meals and regular gym visits, I will do CoolSculpting treatments once a month (two to three sessions) to achieve my beach-ready body.
Be Beach Body-Ready with CoolSculpting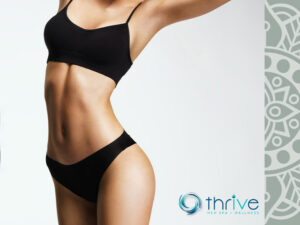 Feel comfortable in your own skin and rock that frock with pride. Start your transformative journey today with CoolSculpting!
Schedule your appointment today with Thrive Med Spa & Wellness, and join the many satisfied customers who have experienced the benefits of CoolSculpting and other aesthetic treatments.
Contact us for a consultation or call today at (603) 496-8802 to learn more.
Check out what our happy customers have to say about CoolSculpting's results; click here.