If You Want to Eliminate the Many Signs of Stress and Aging, Learn About the Best Alternative for Botox in Portsmouth.
Stress is something that has become almost inevitable in every person's life. Even though it affects us negatively, it is still hard to avoid it completely. Good thing there is a botox alternative that can address the unwanted physical effects of stress that show up on our faces.
There are many stressors around us: in our homes, at work, and even in the most random places. Stress seems to show up anywhere, every day–causing people to experience physical and mental symptoms due to prolonged stress.
As we age, its effects become more and more prominent. These physical effects are something that should be addressed, as they can take a toll on one's health. Discover how stress can affect people negatively and how you can easily combat its effects on the skin through a botox alternative:
Recognizing and addressing the physical effects of stress
Stress presents itself in many ways, but the most common of all is its effects on the body, mind, and face: anxiety, depression, early signs of aging, skin reactions, and more. When we are stressed, we tend to experience reactions that can either be temporary or permanent.
It's the holiday season, so everything is more fast-paced, and there are also many things to do before the year ends. This time can be stressful for most people, so it is important to recognize the triggers and address their physical effects.
Before the new year comes, make sure to find time to care for yourself by releasing tensions and undergoing treatments that can improve your overall appearance and wellness. Understand how stress can affect the human body and discover how you can combat its repercussions effortlessly:
1. Anxiety and depression
Stress can truly take a toll on one's mental health. Anxiety can be triggered due to various stressors in the environment. When stress becomes consistent, it can contribute to or directly lead to depression.
These effects should be consulted with the doctor immediately as they can worsen one's mental health status over time.
2. Skin reactions
Stress doesn't only affect the mind, but it can also show up on the large areas of the skin in our bodies. Different skin issues that can present as allergy-looking reactions can be triggered due to extreme stress.
3. Respiratory difficulties
People who suffer from stress and anxiety often experience difficulty breathing, which is why this physical symptom should be taken seriously.
4. Fine lines and wrinkles
Facial expressions require the use of muscles, so when the reactions are consistent, stress can lead to wrinkles, fine lines, and other skin changes.
It can be challenging to avoid stress completely, but procedures such as Botox and other safer alternatives can already address these visible signs.
5. Tensed muscles and other body pains
Stress causes tension in the muscles of the body. When people are under utmost stress, their muscles can tighten, causing body pains and overall discomfort.
What is Xeomin Botox Alternative?
Unlike Botox, Xeomin is cleaner and purer. It does the same job as Botox, but it is a safer option that offers a more natural-looking result. In the aesthetics space, Xeomin has been a great alternative to the popular Botox since 2011. Our skin reveals signs of aging as we age, such as wrinkles and lines.
These skin issues can also result from stress due to prolonged muscle contractions in one's facial movements. Xeomin treats frown lines and facial wrinkles, such as those that appear between the eyebrows and around the eyes.
Unlike dermal fillers, Xeomin doesn't add volume to the area where it has been injected. It doesn't "fill"; it blocks muscle movements that contribute to wrinkles. This allows the skin to be quickly and temporarily smoothed out.
Xeomin is unique and created by purifying only the therapeutic component of the molecule and leaving out all the other unnecessary proteins found in Botox.
Xeomin is known to be a better option than Botox because of the following:
It is a safer Botox alternative – Xeomin is the cleanest and purest product available on the market, making it safer than its popular counterpart, Botox. It also doesn't contain unnecessary proteins.

Xeomin provides natural results – the experts who administer Xeomin target the muscles that cause wrinkles skillfully. Thrive Med Spa in Portsmouth specializes in natural-looking procedures, giving off a vibrant yet effortless-looking outcome.

Targeted results – Xeomin can be injected in specific parts of the face, allowing minimal pain but maximum improvement in appearance. Smooth and wrinkle-free skin is always the goal when getting this Botox alternative.

Xeomin prevents the formation of new wrinkles and lines. Once specific facial muscles have already been relaxed, Xeomin can prevent the resurfacing of future wrinkles and other skin issues. It prevents fine lines from showing up and deepening further.

This Botox alternative works shockingly fast! Xeomin can present its initial results as early as 10-14 days. The treatment is perfect for those who want an impressive transformation but with minimal downtime.
Learn more here: 9 Questions You May Have About Xeomin, A Botox Alternative in Portsmouth, NH
Xeomin the Best Alternative to Botox in Portsmouth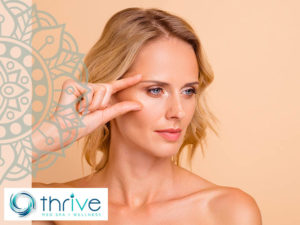 Any procedure that is intended to be performed on the face or the body should only be done by professionals. Thrive Med Spa and Wellness in Portsmouth, New Hampshire, is an expert in providing Xeomin, the best alternative for almost any type of patient.
Our trained doctors administer the drug, so you can be confident that you are getting the best treatment and care from expert professionals. Thrive Med Spa & Wellness is an integrative aesthetic center and wellness spa in Portsmouth.
Our wellness therapies are known to give a gentler approach to treating the body, helping clients take charge of their health while getting pampered.
If you want a natural and youthful appearance, this is the best time to try something new and purposeful–the best holiday gift you can give yourself! Contact us today at 603-496-8802, so we can start your journey to a healthier and more beautiful you.